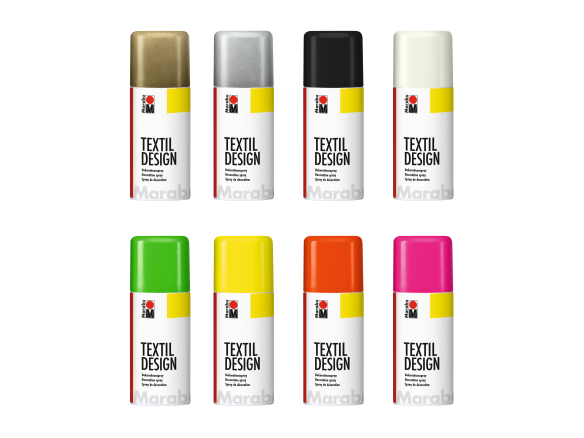 decorative acrylic-based spray for fabrics, conditionally lightfast and wash-resistant (up to 30°C), hazard warnings: Xi irritant, F+ extremely flammable, N dangerous for the environment
Marabu TextilDesign is an acrylic-based decorative spray for fabrics. After drying, it has limited wash-resistance up to 30°C (delicate wash only, inside out). Colorspray allows you to make decorative designs and lettering quickly (with or without template) on practically any fabric found on, for instance, furniture, curtains, napkins or clothing. This spray can be applied to both light and dark fabrics but it should be noted that it will have a more matte and pale appearance the darker the intended fabric is. Spraying of multiple coats increases the coverage – but too much paint can lead to a hardening of the surface of the fabric.
Please also note that this paint should not be fixed and is therefore not suitable for use on clothing worn regularly.
Treatment: Shake the can for 2 minutes before using and hold it vertically when spraying. It is recommended that it be held at a distance of 3 to 5 cm when making lettering, doing freehand designs or stencilling; the spraying distance should be 15 to 20 cm for larger areas. After use, turn the can upside down and spray until valve is empty.