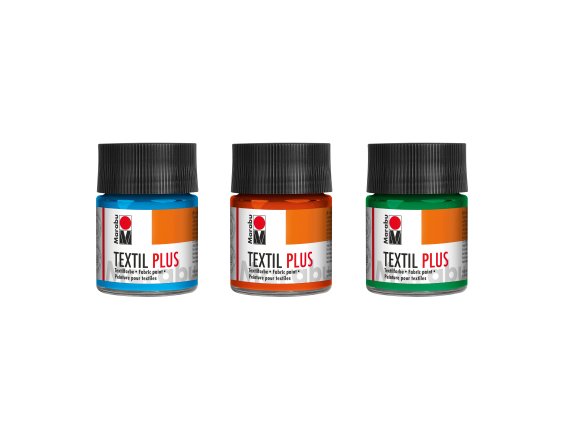 water-based fabric and stencil paint, for light and dark fabrics, after fixing (by ironing or baking) it is lightfast and washable up to 40 °C
This water-based fabric paint, which provides outstanding coverage, can be used on all non-finished fabrics such as cotton, linen, jute, silk and blended woven fabrics with up to 20% synthetic content. It is not suitable for use on knitted garments. These easy to apply paints can be intermixed as well as diluted with water and, when dry, have an especially soft feel.
The intense colour hues are extremely fade-resistant (lightfast). In the case of particularly thick or heavy fabrics, a thicker application of the paint is recommended. For detailed work, the Marabu fabric paint can be combined with MARABU TEXTILE PAINTER and MARABU EFFECT LINER.
Treatment: Before painting or doing stencil work, wash to remove dressing and softener from your material. Apply the paint to the dried fabric and allow to completely dry. Then, using a thin cloth as a covering, iron with the heat setting for cotton the whole painted area from the front for at least 3 minutes for every 50 x 50 cm area. An easier method for fixing the paint is to put it in a pre-heated oven for 8 minutes at 150 °C (not for blended fabrics!). After that, Marabu Textil Plus is extremely wash-resistant up to 40 °C. Clean brushes and other utensils with water immediately after use. In order to be sure that your motifs last a long time, they should always be washed and ironed inside out.
MARABU TEXTIL METALLIC FABRIC PAINT is also great for painting on both light and dark fabrics. Our MARABU TEXTIL FABRIC PAINT is another paint type that can be used on light coloured fabrics.
Marabu Textil Plus fabric paint
13 Variants