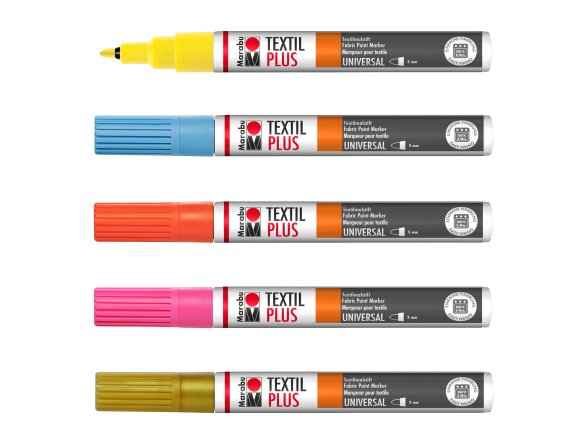 water-based paint for light and dark fabrics, after fixing (by ironing or baking) it is lightfast and wash resistant up to 40 °C, round plastic tip, plastic barrel, cap is colour-coded
The Marabu Painter Plus is a fabric pen with water-based paint that can be used on practically all light or dark non-finished, softener-free natural fabrics. After fixing, the paint is lightfast, wash-resistant up to 40°C and soft to the touch. It can be used in combination with MARABU TEXTIL and MARABU TEXTIL PLUS fabric paint to great effect (please follow the fixing instructions carefully). The pen should be stored in a horizontal position.
Treatment: New fabrics must be washed at least once (without softener!) before being painted with the Textil Painter. After application, the paint should be allowed to dry for about 30 minutes and can then be fixed by means of ironing (temperature setting for cotton, no steam, minimum 3 minutes for every 30 x 30 cm area). An easier method for fixing is baking in an oven for about 8 minutes at 150 °C (except for synthetic and blended fabrics!).
Please note that in order to be sure that motifs designed with this Painter pen last a long time, the painted fabric should always be washed (using only delicate wash detergent) and ironed inside out.
Marabu Textil Painter Plus fabric pen
15 Variants