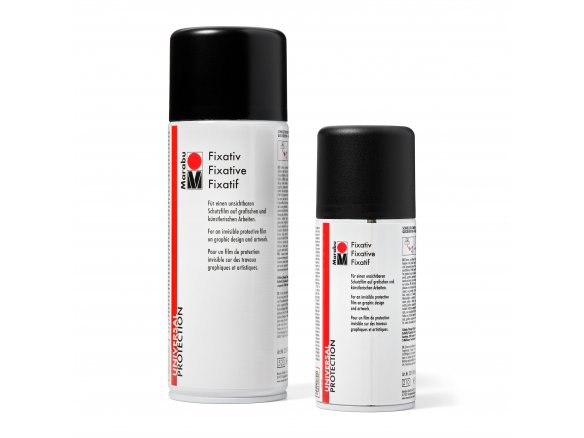 colourless, transparent, lightly dulling, does not yellow, water-resistant, fast to handling
Description
Hazard warnings
This highly transparent, matt finishing film coating will not yellow, is water repellent and anti-slip. It can be used with all types of work with chalk, pastel, raddle, charcoal, pencil, watercolour and tempera paints. This fixative spray should not be used with polystyrene foam. 
Danger, n-Butylacetat = 25 - < 50 %, Dimethylether = 25 - < 50 %, Butan (< 0,1% Butadien (203-450-8)) = 20 - < 25 %, Aceton = 2,5 - < 5,0 %, Cellulosenitrat = < 2,5 %, (VOC-Gehalt (EU) = 95,48 %; VOC-Wert (EU) = 725,3 g/l), Aceton, n-Butylacetat, Ethylacetat, Propan-2-ol, Dimethoxymethan, 2-Methoxy-1-methylethylacetat, Flam. Aerosol 1: Flammable aerosols, Hazard Category 1, STOT SE 3: Specific target organ toxicity - Single exposure, Hazard Category 3, Aerosol 1, Eye Irrit. 2, STOT SE 3
Hazard warnings
EUH066: Repeated exposure may cause skin dryness or cracking.
H222+H229: Extrem entzündbares Aerosol. Behälter steht unter Druck: kann bei Erwärmung bersten.
H336: May cause drowsiness or dizziness.
H222: Extremely flammable aerosol.
H229: Pressurised container: May burst if heated.
H319: Causes serious eye irritation.
Safety instructions
P101: If medical advice is needed, have product container or label at hand.
P102: Keep out of reach of children.
P210: Keep away from heat, hot surfaces, sparks, open flames and other ignition sources. No smoking.
P211: Do not spray on an open flame or other ignition source.
P251: Do not pierce or burn, aven after use.
P260: Do not breathe dust / fume / gas / mist / vapours / spray.
P410+P412: Protect from sunlight. Do not expose to temperatures exceeding 50°C / 122°F.
P501: Dispose of contents / container to …
P264: Wash … thoroughly after handling.
P271: Use only outdoors or in a well-ventilated area.
P280: Wear protective gloves / protective clothing / eye protection / face protection.
P305+P351+P338: IF IN EYES: Rinse cautiously with water for several minutes. Remove contact lenses, if present and easy to do. Continue rinsing.
P405: Store locked up.
Marabu fixative spray, can 400 ml