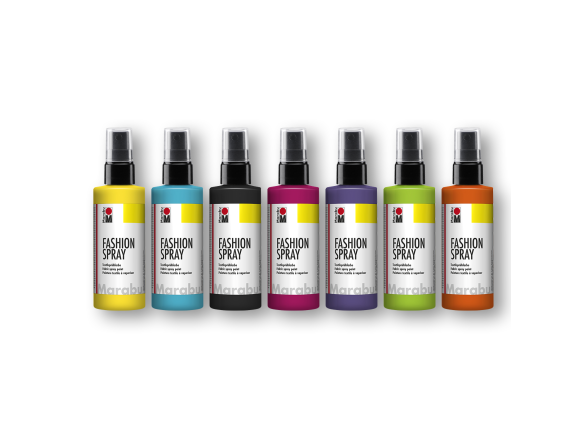 odourless and non-fading
many bright tones
soft pump
for light textiles, up to 20% synthetic
washable up to 40°C after curing
for free spraying, tie-dye effects and stencilling
matches with Fashion Liner textile markers
Composition

water-based fabric spray paint with acrylic resins

Setup

in pump spray bottle

Consistency

fluid

Attributes (moist)

miscible, odourless

Attributes (dry)

lightfast, can be washed and ironed
This water-based textile spray paint (pump spray bottle) is suitable for use on light coloured textiles with a maximum percentage of synthetic fibres of 20%. T-shirts, bags, pillows, and so on can be permanently decorated according to your own tastes with this odourless and lightfast paint - whether by freehand spraying with colour gradients or by using templates, masking or tying up techniques (batik).
Application:
Before decoration work the finishing and softeners should be washed out, and the textile dried
Cover your own clothes while working and, if necessary, wear disposable gloves.
Use some kind of padding to prevent the paint from bleeding through to other materials.
After spraying Marabu Fashion spray on your work let it dry for 6 hours.
After it has set (fixed) the paint can be washed at 40 °C 
Always wash and iron painted textiles inside-out
Wipe the Fashion Spray spray tip clean after use
Each set contains 3 spray bottles with different colours (3 x 100 ml) and a matching coloured Fashion Liner (25 ml).
Indian Spirit: Sprays are red-orange 023, petrol 092, aubergine 039; Liner: Shimmer Caribbean 591
Cool Denim: Sprays are reseda 061, sky blue 141, marine blue 258; Liner: Shimmer silver 581
Marabu Fashion-Spray textile spray paint
24 Variants
Accessories and Related Products