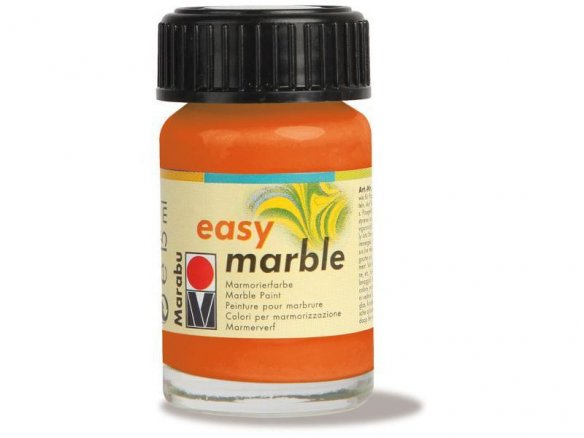 opaque organic solvent-based paint to be applied in drops on to water or wallpaper paste, glossy, smudge-proof, colours are not fast, comes in glass container with cap that can allow drops, hazard warnings: F highly flammable, N dangerous for the environment
With Easy Marble you will be able to quickly and easily produce beautiful marble effects on practically any object as if by magic! This comes in particularly handy during Easter and Christmas whereby the inevitable eggs and ornaments can be the glowing recipients of the process! The paint can be used on plastic, glass, wood, papermaché, candles, metal or polystyrene. Even many textile materials and paper can be "veined" or marbled with Easy Marble. Children, too, can actually create marble effects with this easy technique although adult supervision is advised.
Applications: Easy Marble can be used in two different techniques: dip marbling (for three dimensional objects like, for instance, eggs!) and marlbing with the help of marbling primer (for paper and cloth). 
Dip marbling: For dip marbling you simply take a container (e.g. a large yoghurt carton) and fill in with cold water. (Please note that the carton used will not be able to be cleaned up completely.)  You then put your object on a wooden skewer (e.g. a toothpick or a kebab stick). The paint is then dripped directly from the jar onto the surface of the water. Best is to apply 2 to 3 colour hues. The more paint you use, the more intense your marbling will be. Use a toothpick to now shape a pattern on the water, slowly dip your object into the water and then quickly remove it. You must work fairly quickly with Easy Marble because a paint film will form within a short amount of time whereby it will be impossible to make a marble effect pattern. The paint is dust-dry within about 15 minutes and can be wiped with a moist cloth after it is completely dry - but it is not dishwasher and washing machine safe.
In the final step, you can carefully and completely remove the excess paint film from the water´s  surface with the edge of a piece of paper in order to drip a new colour combination on your water. You must be sure that no excess paint film remains on the water surface between jobs because it will prevent the even distribution of the new paint.
Marbling with a marbling mixture: To make a paste glue based marbling mixture you must stir 1 level tablespoon of WALLPAPER PASTE into 1 litre of cold water with a whisk and let it soak overnight.
To begin your marbling job, put your paste glue mixture in a bowl and puncture any bubbles with a needle. In this method too, the paint is dripped directly from the jar onto the surface of your mixture. Best is to apply 2 or 3 colour hues. Again, you use a toothpick to form a pattern in the paint after which you place your paper or cloth on the surface pattern. In the case of absorbent paper and cloth you must wait a bit until the paint is completely absorbed. You then slowly remove your material from the marbling mixture and immediately wash away any residual mixture with cold water - do not rub!
At this point you can finally use the edge of a piece of paper to carefully remove all the residual paint film in order to begin a new colour combination. Like in the first method, you must be sure that no excess paint remains on the water surface between jobs because it will prevent the even distribution of the new paint. Your paste glue mixture must be renewed after about 7 to 10 marbling applications!