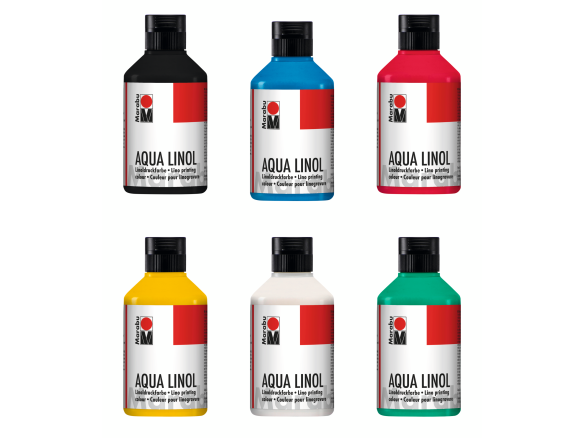 ready-to-use, water-based colour (ink), paste-like, covers well, smudge-proof, good to very good colour fastness (non-fade), complies with European safety norm EN71 (toy safety)
The Marabu Aqua linoprint colour provides great coverage and is suitable for use with all relief printing techniques that employ print blocks made of linoleum, cork, polystyrene foam, wood, felt, rubber or natural materials (e.g. potato blocks). The printing results show sharp contours and homogenous area coverage when materials like (Japan) paper, cardboard, cloth and felt are used. All the different colour tones can be mixed one with the other and can be thinned by adding water. This viscous ink adheres extremely well on printing blocks and when, after 15 minutes, it has dried, it is also smudge-proof (but not waterproof). Tools can subsequently be easily cleaned with water.
The classic colour for linocuts is black but the other colour tones can also produce exciting motifs. For advanced linocut printers, the idea of making multi-coloured prints whereby each colour is applied to a separate printing block is of course very interesting to contemplate despite the extra effort involved.
Marabu Aqua linoprint colour
10 Variants