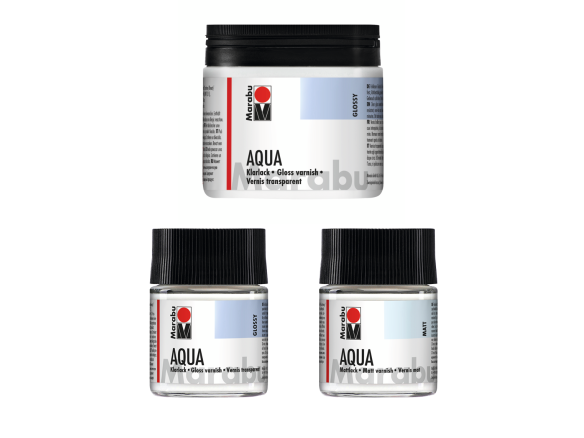 water-based varnish, smudge-resistant, saliva-resistant, weather-resistant
Marabu Aqua glass varnish is water-based and great for colourlessly varnishing handicraft works made of paper, cardboard, air-hardened modeling materials (but not Fimo), wood, glass, metal, stone, fibreboard and can also be successfully used with decoupage. In addition, this transparent protective film can be used for varnishing all weatherproof Marabu paints like, for example, MARABU DECOR MATTE ACRYLIC and MARABU DECOR LACQUER ACRYLIC. After about 30 minutes this lacquer is dust-dry and, when good adhesion has resulted, it is weatherproof and lightfast (non-fading). Brushes should be washed immediately with water if you want to use them again.
In the glass jar and when applying them, all the Aqua lacquers from Marabu look milky but after they dry the desired effect - be it transparent, glossy, matte, or satin-matte - comes to the fore. The Aqua varnishes are not suitable for varnishing paint applications or materials that are water soluble after drying.
Marabu Aqua glass varnish, colourless
6 Variants