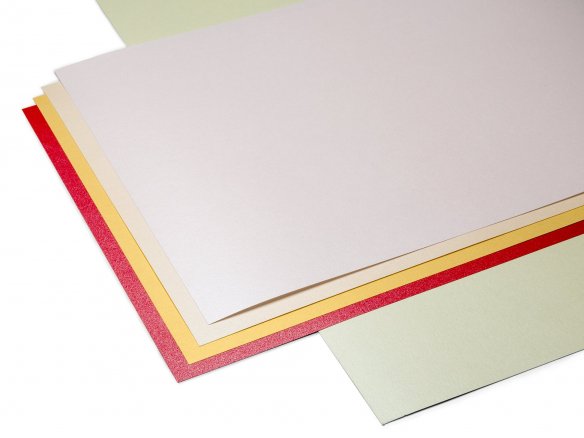 solid colour, wood free, from chlorine-free bleached pulp (TCF), smooth, both sides with iridescent surface effect, laser guarantee (s/w), suitable for ink-jet printer (s/w)
Iridescent or metallic shimmering pigments are applied to both sides of high quality, coloured paper which is distinguished by its high volume, smoothness and sturdiness and the final product is so interesting that it ends up being used for high quality printing work, as a covering for boxes, for bookbinding work or simply for arts and crafts.
The Majestic manufacturer guarantees that it is suitable for use on laser printers. Use on ink-jet printers (B/W) as well as copiers (B/W and colour) produces excellent results. In addition, it can serve as a covering paper, can be varnished after printing and takes well to blind tooling and hot-film stamping.
Majestic fancy paper, iridescent
16 Variants
210 mm x 297 mm
720 mm x 1020 mm