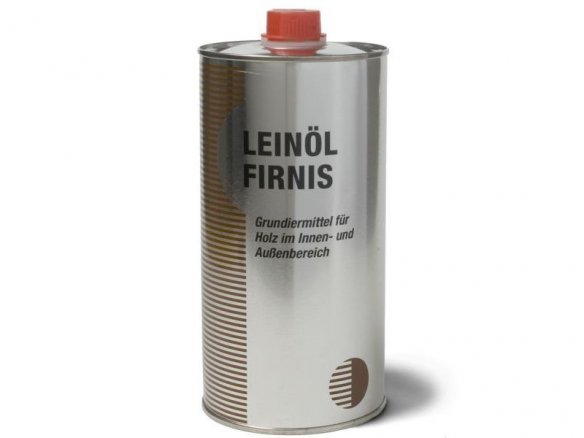 pure linseed oil, non-toxic, biodegradable
The natural product linseed oil is extracted from linseeds and has been used for centuries in the production of paints and wood protective agents. Pure linseed oil dries extremely slowly and is therefore reworked into linseed oil varnish through the addition of drying agents.
Oil paints can be made with linseed oil varnish: to do this, inorganic or organic PIGMENTS should be mixed with the varnish and stirred into a mash to which more linseed oil varnish and TURPENTINE substitute should be added until the mixture is suitable for spreading.
A description of dying (colouring) drawings and cardboards with linseed oil varnish or oil crayons can be found under the heading "Paints, Aids, Chemicals" where the sub-heading "Information about Paints, Aids, Chemicals" should be consulted (not yet in English). When linseed oil varnish is used as a primer for raw wood it should be thinned in a 1:1 ratio with turpentine substitute and applied with a brush or rag to a dry, grease-free substrate. After drying, any excess material should be removed with a cloth and after the drying has completely run its course, fine polishing is in order.
Linseed oil varnish, metal can 1000 ml
Note
Linseed oil varnish is inflammable. If the surface of a cloth or some other fairly absorbent material is left with a thin coat of this product on it and there is a free supply of air, it can even spontaneously combust. It is therefore important that any cleaning rags or brushes are stored in a closed METAL CONTAINER after being used.