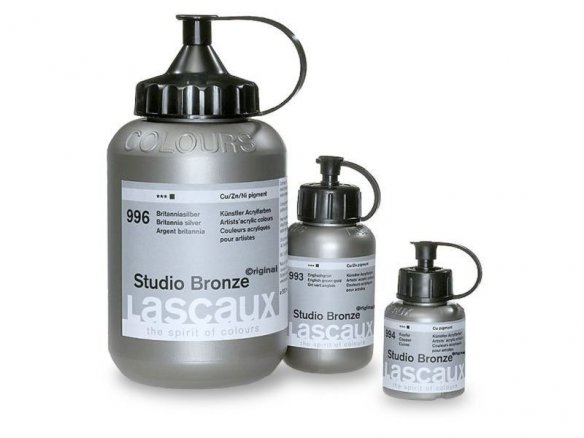 stabilized metal alloy in pure acrylic polymer, water-based, non-browning, viscous, high coverage, satin-matte, elastic and hard at same time and waterproof when dried, can be thinned with water, colours can be intermixed (see info), maximum lightfastness; working temperature: minimum of 10 °C, shelf life after opening is 2 years,
Lascaux Studio Bronze acrylic paint is a luminescent bronze colour made of pure, non-browning metal alloys that finds great use in the fields of artwork, design and decoration as well as in architectural work. The term "bronze" means a metal alloy with at least a 60% proportion of copper.
Its homogeneous coverage makes this paint ideal for wall design and large area painting. Please note that when the paint is used in the field of architecture it should not be used on alkaline surfaces (for example only on cement or lime plaster after it has cured) because otherwise the paint´s binding agent will be ruined. Surfaces to be painted must be grease-free and can also be treated with primer or modelling paste depending on the desired amount of absorbtion and texture. It can be applied pure or thinned with water up to a proportion of 20%.
The different hues can be intermixed but please note that gold can only be mixed with other gold hues (990, 991, 992, 993, 994, 996) and silver can only be mixed with silver hues (995 und 997). All the gold bronzes (these also include copper and Britannia silver) contain copper/tin pigments (Cu/Sn) while the two silver hues are based on aluminium or, alternatively, iron pigments. Mixing the different metal pigments will not produce a stable colour mixture. This also applies to mixing with other Lascaux paints and is not recommended.
After having completely dried (at least 24 hours), finished work can be permanently protected against abrasion, moisture and oxidation by applying LASCAUX ACRYLIC TRANSPARENT VARNISH. This application must take place under dry and warm conditions because otherwise the gold bronzes, copper and Britannia silver could become discoloured with a greenish tint. The last named are thus only conditionally suitable for outdoor use because the copper portion in the paint is sensitive to environmental influences. Even indoors, LASCAUX ACRYLIC TRANSPARENT VARNISH should be applied for protection.  
Lascaux Studio Bronze acrylic paint
24 Variants