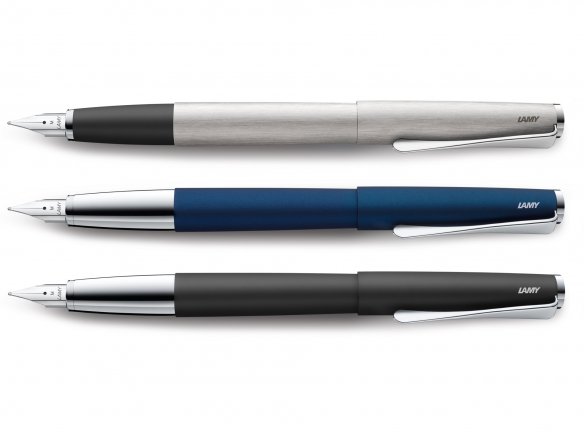 stainless steel barrel, painted; grip area is glossy silver or black matte, glossy chromed metal clip, polished stainless steel nib, silver colour with iridium tip, M width, compatible ink refills: Lamy T 10, Design: Hannes Wettstein
The Lamy Studio is an elegant, classic looking and somewhat fat barrelled fountain pen that has a nice heavy feel in the hand. Particularly eye-catching is its twisted, glossy-chromed clip, which, because of the turned angle, is easier to grab hold of and pull. It is beautiful to boot! The models with the matte barrel also have shiny chrome ends that once again lend the pen the appeal of contrasting details. There is also a matching STUDIO BALLPOINT PEN for those interested in creating a kind of set.
This fountain pen comes equipped with the most commonly used nib, the M width.
Lamy fountain pen, studio
3 Variants