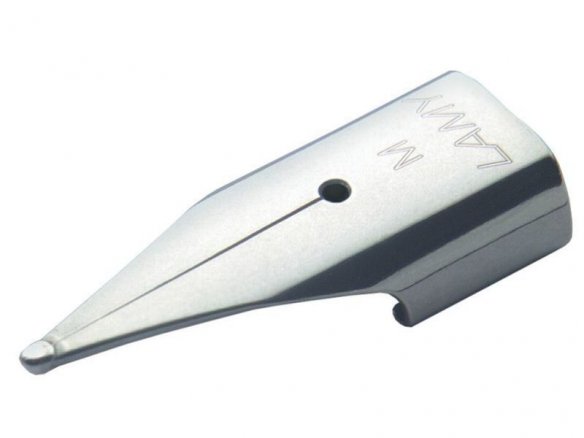 stainless steel, fits all Lamy fountain pens
We carry Lamy steel nibs in a polished silver version. The standard width nibs also come in a chromed version that is painted black. All Lamy fountain pen nibs come equipped with a high-quality iridium ball welded to the tip of the nib.
Nib A: for beginners. The iridium tip is round and shaped like a ball. This ensures that the flow of ink will be even – even for beginners! This nib is particularly sturdy so as to be capable of withstanding the usually heavy-handed pressing on the nib done by children.
Nibs M and LH: These two nibs are all-rounders that also have a rounded tip. This roundness makes it almost impossible for the tip to jam into paper during writing. The M nib is the most used nib width for right-handers. The LH nib is the (only!) nib for lefthanders.
Nib F and B: These nibs are alternatives for the M nib. The F nib produces a thinner line than the M; the B nib, somewhat wider. With these nibs the iridium ball is slightly flat at the point where the tip contaccts the paper which means that, when writing with these, more care must be taken not to turn or angle the pen because otherwise the ink flow will not be even. Whether someone prefers to write with a finer or wider line is obviously a question of personal taste but in general smaller lettering is best accomplished by a finer nib while larger lettering is better made with a wider one.
Italic nibs 1.1 mm, 1.5 mm and 1.9 mm: These kinds of nibs are also called calligraphy or chisel-edged nibs. They can be used, depending on the angle taken, to produce different line widths while moving the pen in different directions thereby achieving a classic beauty. Italic nibs do not have an iridium ball at the nib tip but are rather ground into a particular angle that does tend to slow down the writing process and limit the "freedom of movement" of the nib.
Lamy fountain pen nip, Z 50
10 Variants