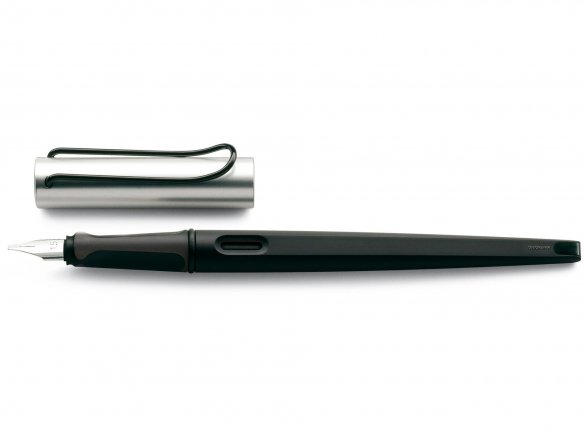 ABS barrel, grip with 2 grooves, anodised aluminium cap; black, metal spring clip, chisel-edged calligraphy steel nib, silver, 1.5 mm wide, compatible ink cartridges: Lamy T 10, Design: Wolfgang Fabian
This calligraphy fountain pen is very similar to the LAMY SAFARI, having the same grip grooves and the same cap, the only difference being that the upper end of the ABS barrel is tapered giving it a look reminiscent of a Japanese calligraphy brush. And this comparison is more than apt because its 1.5 mm wide, straight chisel-edged (Bandzug) nib lends handwriting a characteristic Japanese style and is able to produce lettering with different widths depending on the direction the pen is pushed or pulled. For those for whom the 1.5 mm width is too narrow there is a 1.9 mm version available and if it is too large wide there is a 1.1 mm nib.
This fountain pen can alternatively be supplied with a FOUNTAIN PEN NIB having another width or one designed for left-handers.
Lamy fountain pen, joy AL, plastic/aluminium, black/silver, matte (model 11)