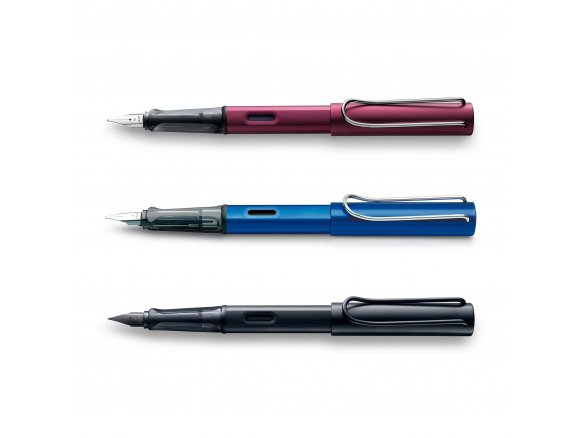 anodised aluminium barrel, copolyester (PCTG) grip, transparent, grey, with two grip grooves; chromed, metal spring clip; polished stainless steel nib, silver coloured (on model 25 black chromed), with iridium tip, M width; compatible ink cartridge: Lamy T 10, Design: Wolfgang Fabian
Lamy introduced the Al-star family on the market in 1997. Its shape is very similar to the classic fountain and ballpoint pens LAMY SAFARI from 1980. However, the Al-star employs other materials in place of the ABS plastic: namely, it uses a cold lightweight aluminium for the barrel material and a sturdy, transparent copolyester (PCTG) for the grip, which provides a view into the interior life of this fountain pen.
This fountain pen comes equipped with the most commonly used nib, the M width.
Lamy fountain pen, AL-star
4 Variants