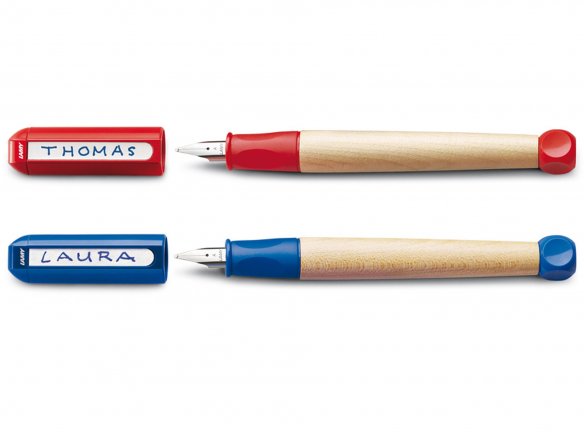 maple wood barrel, plastic grip with rubberised grooves, ABS cap with a label field, polished stainless steel nib, silver coloured, with iridium tip, A width; compatible ink cartridge: Lamy T 10, Design: Development Group Mannheim, Professor Bernt Spiegel
First graders begin learning writing with wax and lead pencils; at some point they graduate to a fountain pen as the crowning discipline (in Waldorf schools goose quills are interjected but we don't want to get into that now…). The perfect fountain pen for beginners is the LAMY abc, which was developed in consultation with pedagogues for the purpose of teaching handwriting. This is already obvious when first seeing by the childish design. The abc has an ergonomically shaped, rubberised grip that encourages a natural, relaxed attitude of the fingers during writing. In addition, it has an anti-slip grip that fits very nicely in a child's hand. The plastic cube on the upper end of the barrel prevents the pen from rolling off a table when the cap has not been put on. The maple wood used for the top part of the barrel originates, by the way, from the Black Forest and is pleasantly smooth. This fountain pen is of course markedly shorter than most other pens and this provides it with a centre of gravity that is appropriate for children. It is also not very heavy, which helps prevent a child's hand from becoming too quickly tired, as is the case with heavier writing utensils.
This fountain pen comes with the particularly stable ''A'' beginner's nib, which is somewhat harder and can withstand the unlearned, heavy pressure writing style of children. That nib can be replaced with one especially designed for left-handers.
Lamy fountain pen, abc
2 Variants