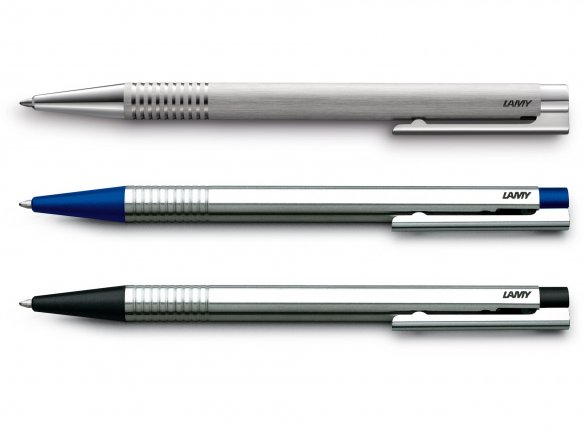 replaceable large capacity refill with indelible ink and metal tip, barrel has a cylindrical matte finish or a brushed finish with ribbed grip area and partly coloured push-button mechanism for retraction, spring clip, various ink colours, compatible refill: Lamy M 16, Design: Wolfgang Fabian
The Lamy logo has certainly been one of the most popular promotional items in recent years. The reason this works out so well is that this Lamy ballpoint pen is surprisingly inexpensive for what it is: it has a heavy barrel made out of stainless steel and a spring clip that looks anything but cheap – this makes it a worthy pen for the office and one that you will gladly reach for and appreciate especially as compared to the usual lightweight junk used for promotional purposes. It is a solid pen suitable for daily use that is good-looking and whose weight lies nicely in the hand.
Please note: The colours on the ends of the barrel is not always a reliable indicator of the colour of the refill inside in some of the different versions. The ballpoint pen with the red end, for example, has, strangely enough, a refill with blue ink. That's just the way Lamy does it – we're sure they have their reasons. The large capacity refills for this pen, the M 16, are available as accessories in a variety of colours, even those matching the colour at the end of your barrel.
Lamy ballpoint pen, logo
3 Variants