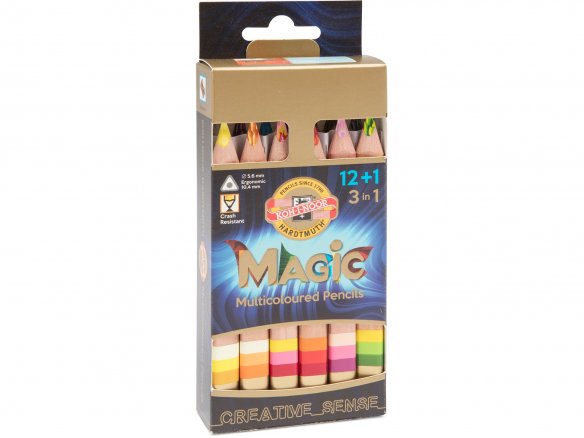 Every lead in three different shades
For true-to-nature landscape drawings
Koh-I-Noor Magic colored pencils feature a lead made from three harmoniously matching shades. When drawing, this gives the effect of a lifelike tone-on-tone line and adds a shadow effect to surfaces. Landscapes become much more true-to-life and, if you twist the lead while drawing, you can even create 3D effects.
The ergonomically-friendly, triangular form of the shaft ensures you can work tirelessly, while it is made from wood that comes from certified, sustainable forests with the FSC seal. In addition to the twelve colored pencils, the set includes an eraser, a sharpener, and a blending tool to blur transitions or create highlights.
Koh-i-Noor Magic colour pencil set, 12 multicoloured pencils/blender/eraser/sharpener