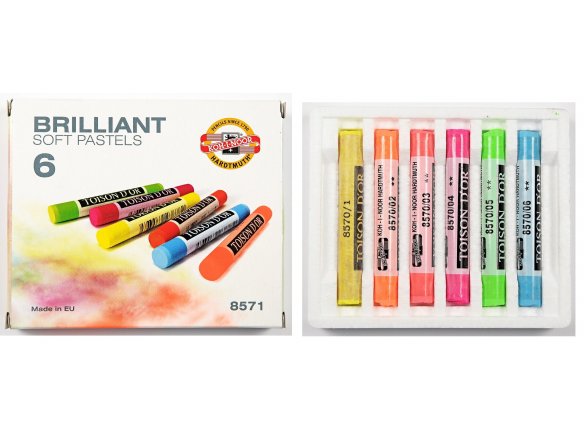 round with 10 mm diameter, comes with paper band, oil-free, can be blended with water (aquarelle effect)
Pastels (chalks) are actually pure, fine colour-powder, a consistency that makes it possible for you to apply colour in a dry process or to apply a tinge of pigment to paper. It also takes well to being smudged or blurred if you want to optically mix colours or create other effects. So as to make it more practical to use, a binding agent is added to the powder and a writing instrument is formed – sometimes jacketed in wood, sometimes only wrapped with a paper band or even just left naked and carefully packed in a padded box.
This set of six different brilliant colours is supplementary to the Koh-i-Noor´s standard colour set – for producing special accents and effects and more dazzling drawings.
Koh-i-Noor Brilliant soft pastels 8571, cardboard box with 6 chalks