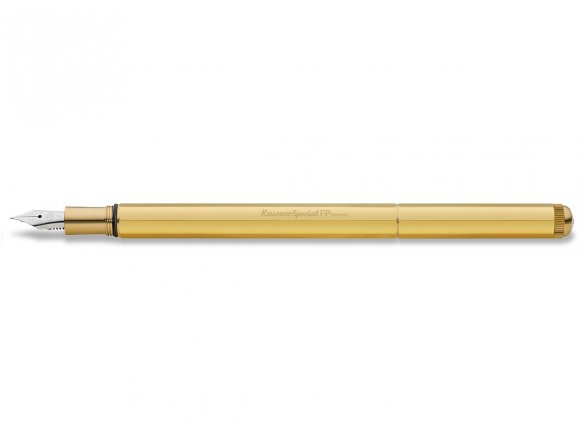 Slim design
Untreated brass case
Attractive age patina through use
Including Kaweco tin can
Material

Shaft and cap made of brass (without further surface treatment), ink guide made of plastic

Version

8-point shaft with flush 8-point cap for screwing on

Nib

Bright steel nib with iridium grain, width M (2.0 mm)

Length

140 mm (closed), 170 mm (opened with the cap attached)

Diameter

10 mm

Weight

30 g

Case

Kaweco tin can

Compatible cartridges

Standard ink cartridges or converter
The special brass fountain pen comes in a particularly slim Kaweco octagon shaft. With a flush cap If you screw the cap onto the thread at the end of the pen for writing, the special with a full 17 cm length becomes even slimmer.
The polished brass barrel was deliberately not surface-treated, and the more you use the fountain pen, the more the brass develops an attractive natural patina, increasingly becoming your individual writing tool.
In the same brass version, you can also get a Kaweco ballpoint pen and aKaweco mechanical pencil. All three are special gifts in the Kaweco tin.
Kaweco fountain pen Special M, M, including short case, brass