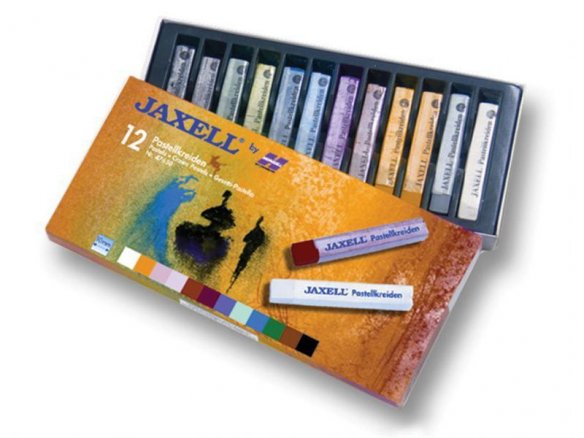 carré-shaped (carré = French for square), paper wrap, l = 64 mm, w = 10 x 10 mm, can be used with watercolour techniques
Jaxell artist-quality pastel crayons are distinguished by their saturating colour application, high intensity colours and excellent lightfastness. They are not as hard as other carré crayons, can be smudged or blurred in finely nuanced ways and be used with watercolour techniques. The square shape allows you to cover large areas with colour but also allows you to do precise drawing with the edge as well. Jaxell crayons can be used in combination with aquarelle, red clay (ruddle), charcoal and acrylic paints. In order to protect work done with Jaxell crayons and make it non-tacky you can spray it with a fixative spray.
Our assortment of individual colours and coloured crayon sets has been enhanced with a 12-piece set of grey tones and a 12-piece set of brown tones. The former has warm and cold grey tones as well as black and white. The latter has warm earth tones that are particularly good for making portraits and landscape paintings.
Jaxell pastel crayons
81 Variants