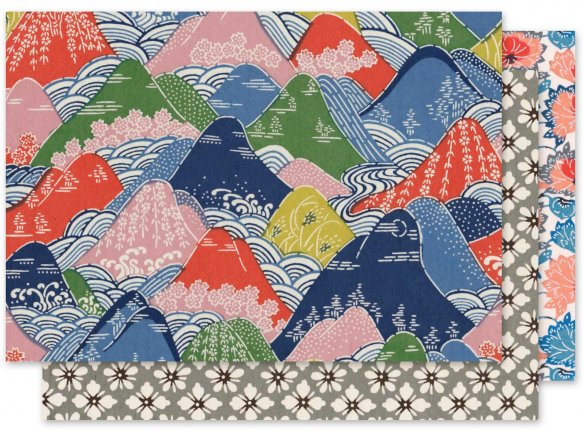 handmade Kozu paper, one side with coloured patterns hand printed using a template method, reverse side is white, rough/rough, 60 g/m², lightfast, 4 original deckle edges
Katazome, the most highly valued Japanese coloured paper, is made sheet for sheet out of handmade white Kozu paper with the aid of a hand-cut template (Kata). After the template is placed upon the Kozu paper, rice starch paste is then brushed over it and this makes the paper paint resistant where it is applied. After drying, the colouring process can be started. The pigments soak deeply into the paper and give it a correspondingly deep appearance. Then another drying process follows in which the colours become extremely light resistant. After that, the paper is washed out in water in order to remove any of the paste that is left over. Finally, a third drying step occurs that can have the affect that the paper becomes somewhat wavy. The whole production process corresponds to the traditional Kimono technique. There is only one workshop in Japan where this process is still employed.
Katazome is distinguished by its large range of colours and patterns (from traditional to modern) and is great for use as a book cover paper or as gift wrapping or even as a decorative object framed and hung on the wall.
Japanese paper Katazome
15 Variants