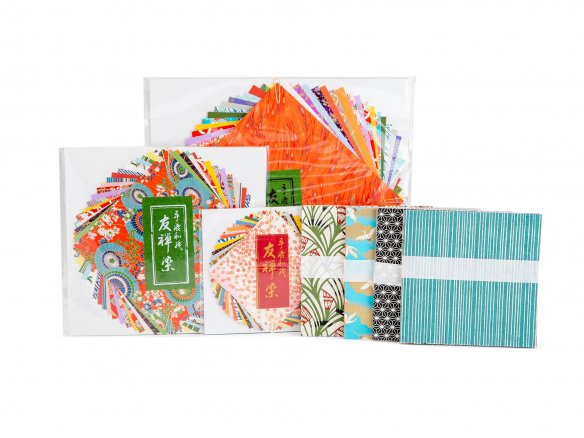 machine-made paper (Katazome is handmade), one side with different coloured patterns which are silk-screened by hand, reverse side is monochromatic, smooth/rough, packed in foil
Our hand printed Japanese origami paper is soft while at the same time sturdy and lends itself wonderfully to folding – as you might expect! All the sets contain paper printed with mostly traditional Japanese patterns – in the 24 sheet package there is also an equal number of monochromatic, solid-coloured Japanese paper sheets included.
Some of the Chiyogami paper, whose pattern is based on Japanese kimono fabric, is imprinted with a layer of gold, There are two different kinds of sets: Chiyogami Yuzen consists of mainly colourful floral patterns, Chiyogami Komon, on the other hand, has more graphic designs of simple elegance. Katazome is considered to be the most highly valued Japanese coloured paper because it is produced sheet by sheet by means of a hand-cut template (Kata). The amount of variety of these paper sheets is astounding and so it is that sets will include patterns from traditional Japanese designs all the way to hip 1950s styles. The Katazome sets are assorted much like the Chiyogami set: Iroiro contains mainly the elaborately coloured paper sheets while the Kanso paper has the simpler designs (most having only two colours).
Because these beautiful paper sheets can also be great as book covers or gift-wrapping paper we also have them on offer in larger sizes (see: japanese paper Katazome and japanese paper Chiogami).
Japanese origami paper, hand printed
7 Variants