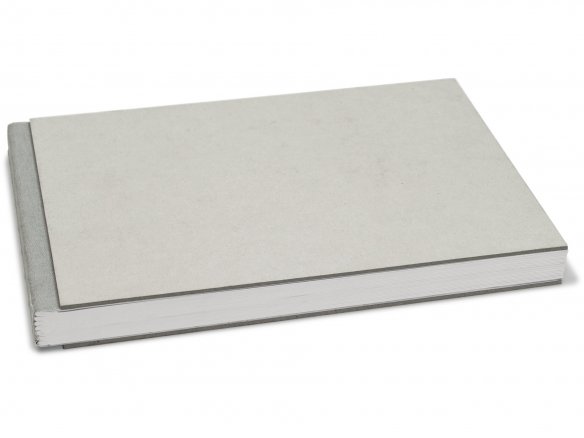 white drawing paper, rough, wood-free, acid-free, chlorine-free bleached, thread binding, very basic cover made of 2 mm thick, untreated bookbinder greyboard, has grey linen spine
There are as many types of sketchbooks as pebbles on the beach but every once in a while one comes along that proves to be special. The sketchbook with the evocative name Janus contains 150 g/m² paper that is very resistant to bleed-through, which means that it can be written on both side of a page with Edding markers or, even more importantly, with Copic and Touch markers. Even if you hold the nib of your marker on one spot for many seconds, the ink will not bleed out into a larger point and will not bleed through the paper (a point stays a point – it does not become a batik pattern). For a sketchbook this is a very useful feature – if you choose to draw on individual sheets of paper the chances are you will just have to put up the bleed-through problem.
In comparison to Copic marker paper (marker pad), the brilliance of the coloured areas is somewhat less than on the Janus paper, which is more cloudy less homogenous. Some may see that as a negative while others might consider it more beautiful. The surface of the paper is also somewhat rougher than the Marker Pad.
Although we have only mentioned Touch and Copic, the Janus paper is also excellent for acrylic markers, chalks, airbrush or commercial coloured sprays; if you draw on it with a pencil or a roller ball pen they will produce great results as well. As is the case with the project sketchbook versions, the Janus combines both stability and excellent flatness when the pages are opened and these qualities mean that you can work on the double pages without any limitations like, for instance, bothersome spaces at the junction.
Janus sketchbook for markers, 150 g/m², 300 x 410 mm, portrait, 56 sh./112 p.