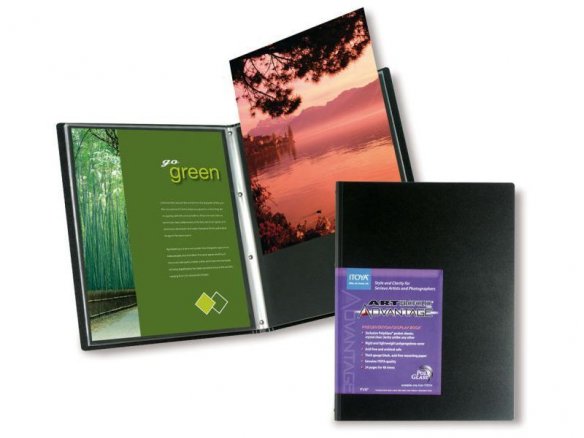 rigid polypropylene cover (th = 2 mm), matte black and finely grained (muted texture); 24 permanently rivetted highly transparent PP sleeves (archival safe) with acid-free black mounting paper
The Itoya display books from the Art Profolio collection (note the spelling!) are distinguished by their excellent workmanship and their simple elegant design. The "Advantage" model has a rigid polypropylene jacket that serves to protect its contents. The highly transparent sleeves are fastened solidly to the cover with four metal rivets, which gives the Advantage its strength and modern look. Each sleeve includes a black, A4 sized paper insert.
Please note: These display books can be customized to your specifications (embossed, printed, etc.) if you so desire. More information can be found under the heading YOUR LOGO ON MODULOR PRODUCTS.
Itoya Art Profolio Advantage
3 Variants