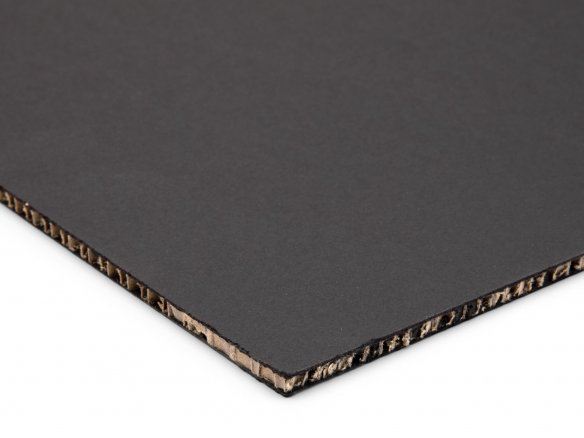 100% recycled
Water-based bonding
Plastic-free alternative to Kapa
Dimensionally stable (can also be stored vertically)
Material

100% recycled paper, FSC certified, water-based adhesive

Color

Black/black

Cover

Cardboard (350 g/m², both sides printable)

Tolerances

± 3 mm

Load capacity

up to 6 kg/m²
Here comes our thinnest cardboard honeycomb panel: Only 5 mm thick and made from 100% recycled paper. This light and rigid board is a plastic-free and environmentally friendly alternative to the black sandwich board Kapa Graph. Due to the thick cardboard cover, the honeycomb core is not noticeable in mounted photos or plans. As with all thin boards, counter lamination is recommended if you value absolute flatness of the board.
The core of the thin plate does not consiste of a hexagonal honeycomb structure, but of a stable, set-up wave structure. This ensures, just like with thicker cardboard honeycomb boards, that the board has a high bending stiffness despite its low weight, and that the cover layers are protected against dents and damage.
Both sides of the black cardboard honeycomb board can be printed in UV direct print on a flatbed printer. Cutting is possible with cutter, circular saw, jigsaw, and fretsaw, and also with large cutting plotters.
Honeycomb board, cardboard clad, black
2 Variants