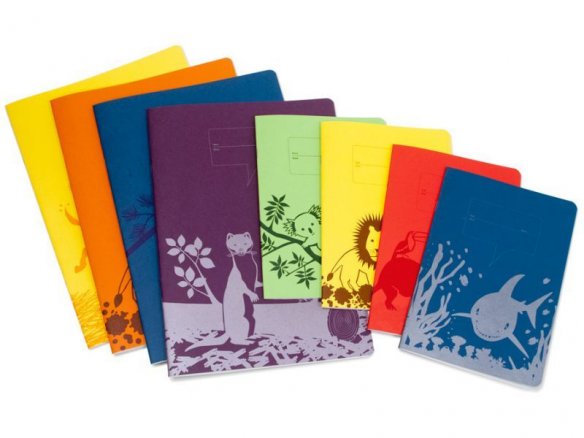 cream white natural paper, smooth, wood-free, 90 g/m², blank or light blue ruled (corresponding to the German specifications for each particular school grade), staple binding, coloured cover made of flexible, matte paperboard, solid colour, printed with animal motifs, 210 g/m², rounded corners, chlorine-free bleached, acid-free, paperboard comes from forests managed with sustainability as the first priority
One booklet for maths, one booklet for writing, one booklet for general subjects? Obviously, school kids need many exercise books when school gets underway. Because really sleek booklets with appealing graphics are hard to find, the design company Mehrwert in Cologne developed its "Himbeerheftchen" line to fill that need. The line´s features include being free of advertising or promotion, having covers that are soft to the touch (child-friendly and decorated with imaginative animal drawings); it also includes pages made of cream white natural paper that can be written on with any type of pencil or pen while also being resistant to abrasion and especially amenable to being erased.
Various types of lineation in accordance with the guidelines required by each different school grade level are available so that writing and mathematical calculations can both be accommodated. The lines are printed in light blue so as to provide an easily readable contrast to any text or number written on them. There are also booklets with blank pages for use, for example, in art classes. The Himbeerheftchen´s paper and the paperboard are chlorine-free bleached, acid-free and come from forests managed with sustainability as the first priority.
Himbeerheftchen school notebook
2 Variants