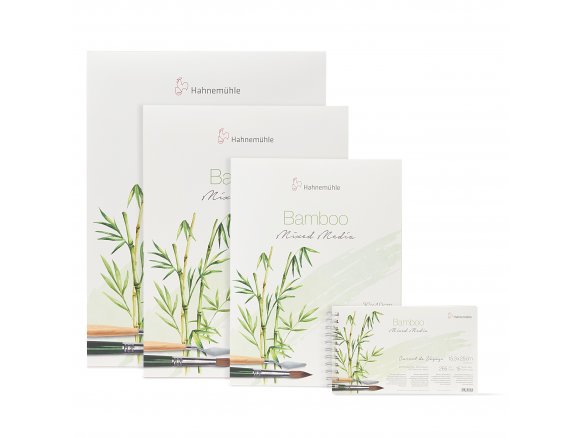 natural white painting and sketching paper, 90% bamboo, 10% rag; matte, acid-free, extremely age resistant, adhesive binding all 4 sides, spiral binding, cover is made of printed paperboard, back cover is cardboard
Because of its unique, matte surface, this naturally white artist's paper made with bamboo fibre is highly suitable for many different painting and drawing techniques as well as for mixed media (hence the name!). This warm-toned and fine textured paper provides for high contrast and excellent colour intensity. Paints flow very nicely and maintain their luminosity when applied. The Bamboo 265 g/m² version is especially good for use with watercolours, acrylic and pastel painting techniques but also for sketching and drawing with charcoal and red ochre. Even very watery watercolours will not develop bleeding edges and the paper will remain sturdy to boot. The 15 horizontal format pages in the ring binder version called "Carnet de Voyage", which means "Travel Diary" is the perfect companion when underway.
Because fast growing bamboo is used in the production of these papers, the depletion of natural resources is avoided. Through Hahnemühle´s environmental initiative Green Rooster, a fixed amount of the sales money from the bamboo paper line is donated to environmental projects.
Hahnemühle universal Bamboo pad, 265g/mř
5 Variants