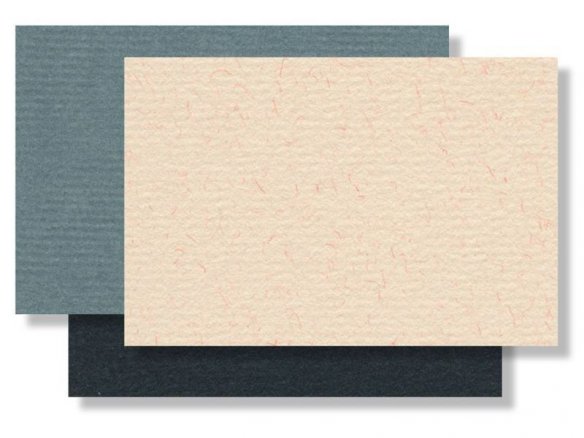 coloured mould-made Ingres paper, fine ribbed, matte, acid-free, aging resistant, lightfast (non-fading), neutral sizing, watermark (in the corner, about 20 x 20 mm)
The Hahnemühle Ingres paper is a fine ribbed paper with four natural deckle edges and a watermark. In contrast to CANSON INGRES-VIDALON DRAWING PAPER, the surface is considerably rougher and more coarsely textured. A further difference between these two versions is that the Hahnemühle black coloured paper is acid-free, as are the rest of the colours.
This drawing paper can be used with dry drawing and painting techniques using pencils, chalks, pastels and ruddle pencils. It can also be used with watercolours. In addition, it has the right characteristics for use as an endpaper. The usable area of the paper – not including the deckle edge – is about 475 x 620 mm (minus 5 mm). WHY? The usable area of the paper – not including both the deckle edge and the watermark – is about 475 x 585 mm or, alternatively, 440 x 620 mm (subtract another 40 mm) depending on from which side you cut the watermark off. This means that the useable area of this Hahnemühle paper is large enough to function as an A3 portrait endpaper.
This paper can also be found in pad form: see, HAHNEMÜHLE INGRES PASTEL ARTIST PAD, 100 g/m².
Hahnemühle Ingres drawing paper, coloured
5 Variants