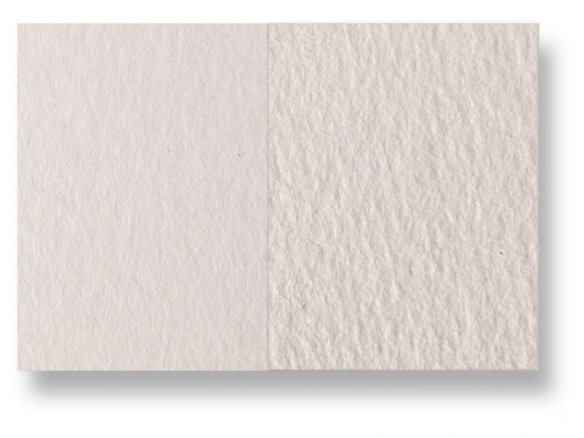 natural white, front side is rough (course grained), back side is matte (lightly grained), neutral sizing, acid-free, lightfast, highest degree of aging resistance
Hahnemühle Andalucia watercolour board has one side that is rough textured while the other side has a matte finish – both sides can be painted on with different results. Both sides are suitable for all wet painting techniques like watercolour, gouache, tempera and acrylic.
The rough side has an uneven, somewhat course texture that gives a watercolour a more tangible, vivid appearance. If you paint with quick brush strokes on its surface when dry, little white areas will appear in the recesses arising from the coarseness of the paper – a very interesting looking effect for your painting. If the surface, however, is wet before painting, your colours will be intensified in those exact same recesses. Paper with rough surfaces is only recommended for use by practiced watercolour artists.
The matte surface version has a fine, adhering character upon which you can paint with full brush strokes when employing a wet-on-dry painting technique and, when using a wet-on-wet technique, even, gleaming colour gradients. Watercolour papers and boards with matte surfaces are recommended for artists who are interested in fine details.
Hahnemühle Andalucia watercolour board, 500 g/m², sheets, ca. 500 x 650 mm (SG), course/matte