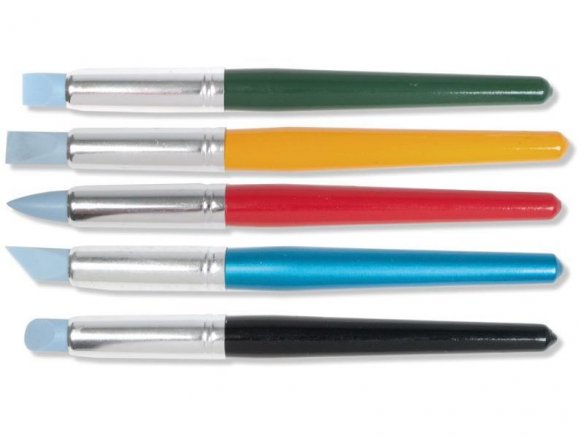 elastic silicon tips, seamless silver ferrule (= drawn brass tube, nickel-plated), varnished wooded handle
Silicon shapers are tools that are not only used by manicurists but are also find applications in the painting and drawing and modeling fields - for example for blurring charcoal or painted lines but also to give structure to colour blocks or fields that have a pasty consistency; or in other words to "rework" a paint mass.
These shapers are not really great for applying painting mediums because, in contrast to "normal" paintbrushes,  their closed smooth silicon tips are unable to actually take up and hold paint or the like. However, silicon version brushes are under certain conditions excellent for stamping techniques using dyes or paints: the shape of the tip need only be modified with a knife to suit your needs. In addition, these silicon shapers can be used as a model making tool when working with materials like clay, plasticine or, as a further example (and recommendation!), SUPER SCULPEY. They can also be a good choice for a child´s first paintbrush because they are easier to use than normal brushes while being more stable at the same time. 
Gummipinsel-Set, set of 5, diverse shapes