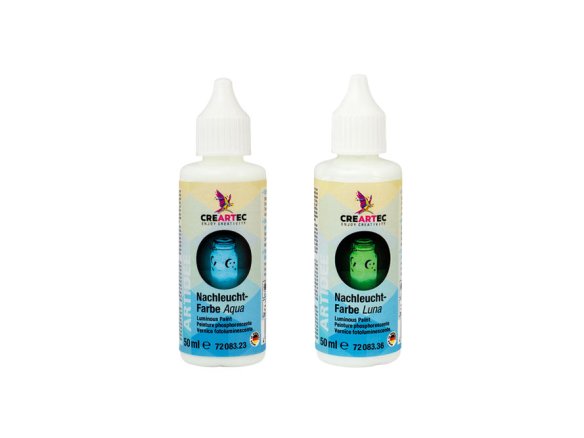 Glows in the dark
For slightly absorbent surfaces
Also for textiles
With paint tip
Made in Denmark
Material

water-based acrylic paint with phosphorescent pigments

Properties

luminescent in the dark, water-soluble, washable up to 40°C

Packaging

plastic bottle with paint tip

Precautionary Statement

No hazardous material labeling, Safety Data Sheet available
When the light goes out, the pigments in the NightLight afterglow light up in the dark for a long time when they've been "charged" with daylight or artificial light.
You can use the yellow-green color to paint slightly absorbent materials such as paper, walls, canvas, or wood, but also textiles – even those you need to wash. For this, you should fix the painted fabric after drying the paint with heat: Place baking or tracing paper on the design and iron for 5 minutes at a temperature suitable for cotton.
When applying the paint, the fine painting tip helps you. For surfaces, you can use, for example, a bristle brush or a paint roller. By the way, the glow effect is stronger, the more layers you apply.
Glow-in-the-dark paint
2 Variants