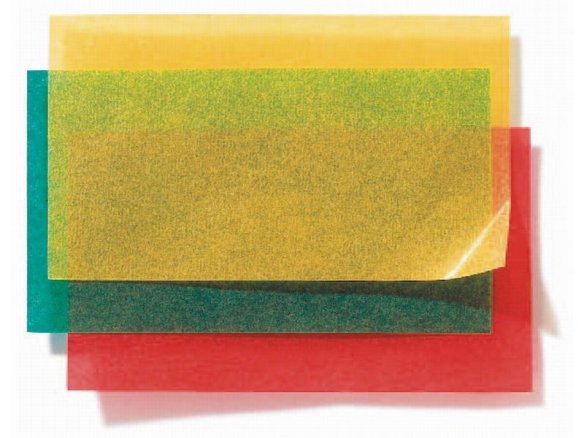 kite paper, translucent, solid colour, wood free, acid-free, pH neurtal, from 100% cellulose, glossy (high satin)
Glassine paper is a firm, transparent paper that is produced exclusively from cellulose. Its gloss and the extreme smoothness of its surface are a result of mechanical calendering alone (no chemical additives). The coloured versions are dyed in bulk at the pulp stage and are therefore pretty much lightfast. The colourless version is food safe, completely neutral as to taste and smell, greaseproof, pH neutral as well as chlorine and acid free.
The classic use of glassine paper is in the packaging of foods (chips (fries) bag), for storing films and documents, as intermediate layers for photographs and stamp albums, as a view window in envelopes as well as use as kite and handicraft paper (lampions, window pictures, candle decoration…).
Glassine paper, coloured
16 Variants