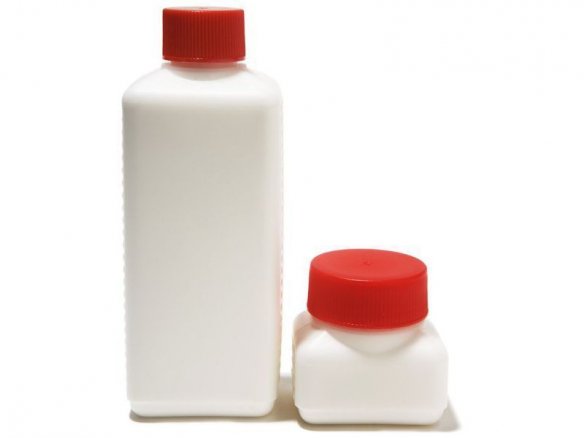 adhesive coat for indoor gilding work, aqueous glue-based dispersion, can be washed out, dries colourless, drying time is 15 minutes, open assembly time up to 20 hours
Gilding size is an adhesive with which both real and imitation metal leaf can be stuck on an object. Because gilding size is water soluble, outdoor work should be done using MIXTION instead.
The surface upon which the glue is to be applied must be free from dust and grease. An absorbent substrate must be treated beforehand with a primer, synthetic resin paint or SHELLAC. Because both the precious and non-precious metal leaf is so thin that it will reproduce every pore or fibre on a surface, any objects where such an effect is undesirable should be smoothed out with a filler.
Using the APPLICATION BRUSH, the size should be thinly and evenly applied with absolutely no bare spots. Before any further work can be done, enough time must be allowed for drying, which means that at least 15 minutes must pass before applying either gold leaf or metal leaf. The open assembly time is the length of time during which the gluing action is still active, which means that the work must be done between 15 minutes and 20 hours. The time span is so large because so factors like, for example, the thickness of the application and the ambient temperature and humidity, can influence the open assembly time. Under ideal conditions the open assembly time can be as much as 60 hours but only an open assembly time of 20 hours is guaranteed.
Low viscosity size spreads very well – and for this reason it is used for large area gilding and for gilding on uneven substrates. The high viscosity gilding size does not run so easily and is therefore better used when making lines. Attention: if the gilding size is laid down too thickly, dark spots can appear on the metal leaf that is subsequently stuck to it.
Basically, for work with higher standards of quality, MIXTION should be the preferred adhesive coat because with it a higher level of gloss can be achieved on the surface than is possible with gilding size. The gilding size does have the advantage that the application of the leaf can begin much sooner and the open assembly time is much longer.