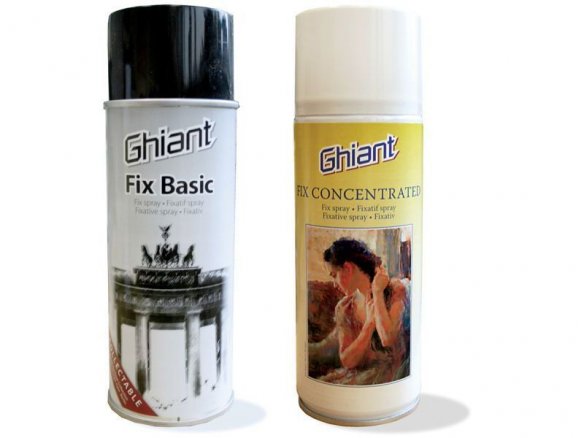 colourless, transparent, lightly dulling, does not yellow, acid-free, water-resistant, fast-drying
Ghiant acrylic fixatives provide a protective film for drawings made with pencil, charcoal, pastel, graphite, watercolours and ink on surfaces including paper, cardboard, plaster, wood, textile, metal, stone, glass, porcelain and plastic (for ink-jet prints, however, only the Ghiant Fix Concentrate will do!). The film dries residue-free in minutes and makes your work smudge-proof. The satin matte spray adheres well, is elastic and does not tend to yellow – note that your colours will only darken a very small amount when sprayed.
Ghiant Fix Basic should be applied 2 or 3 times, Ghiant Fix Concentrate, on the other hand, only needs to be applied 1 or 2 times.
Ghiant Fix fixative spray
2 Variants