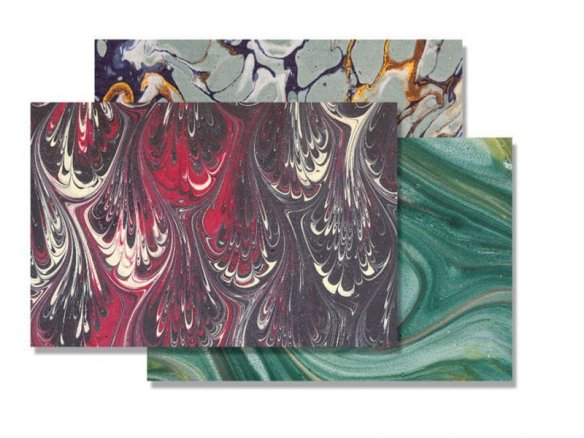 end leaf paper of various colours, one side marbled, dipped (not imprinted or plate-glazed)
The technique for marbling paper is a very old technique that goes all the way back to East Asia in the 16th century. Like the paper itself, the marbling technique came to Europe via the Silk Road. Ever since the technique became known in Europe in the 18th century, marbled paper has been used for end leafs and covers on high quality books. In addition, it can also be well used for covering boxes and folders, as a decorative material or for the packaging of especially high valued gifts.
Although the base materials are no longer the same, the technique for making the paper has remained the same: specially prepared inks float on the surface of a tank of water and these are taken up by paper that is dipped into it. In the process, either haphazard patterns - or ones that are directional through the use of a comb and other aids - are produced. This means that every sheet of paper is unique, which cannot help but come across as something special.
French marbled paper
5 Variants