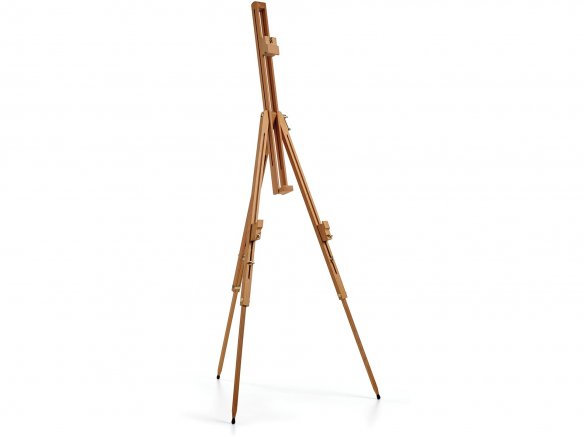 oiled beechwood, three-legged, picture support bar, tilt and leg height is continuously adjustable, compact and collapsible (dimensions: ca. 110 x 105 x 890 mm), leather straps for fastening, carrying handle; given dimensions are depth x width of the floor space required, h is the maximum height of the picture
This lightweight field easel for portable artistic endeavours outdoors can be set up and dismantled like a tripod. It can be collapsed down to a very manageable size and easily carried by means of the leather handle over long distances. The three legs can be individually and continuously adjusted so that the easel can stand on uneven surfaces. If you set the tilt of the picture holding fixture to a horizontal position you can use wet painting techniques on your canvas. This easel is best for small format pictures and sketches but larger formats can also be accomodated.
This lightweight field easel is ideal for use by painters and drawers that like to go way out into nature. If stability is a more important concern and weight not a determining factor our HEAVY FIELD EASEL is probably the better choice.
Field easel, beechwood d=ca. 700 mm, w=ca.710 mm, h=ca.1100 mm, 1.5 kg