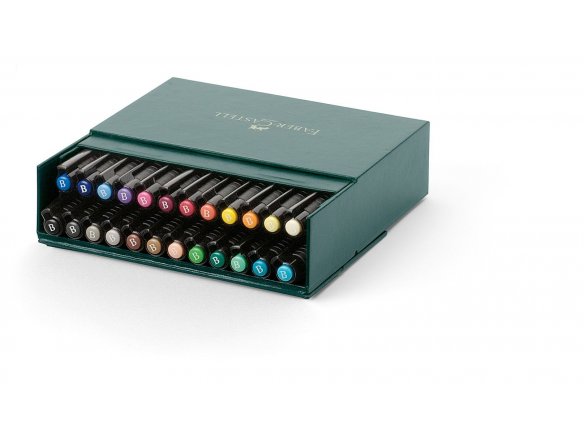 Properties

Permanent (waterproof), highly lightfast drawing ink

Features

Flexible fiber tip in brush form, plastic shaft in the color of the text, black cap with plastic clip
This Pitt Artist Pen is an ink drawing pen with a special tip which travels over paper in a light and supple way like a soft brush. In what is different from other felt-tip pens, the tip is very flexible so that you make fine as well as broad lines or completely colour in an area by simply regulating the pressure applied to the pen. The tip is nonetheless very stable in holding its shape and will not fray even after being used many times.
The large selection of colours make this pen especially suitable for artists, designers, architects and graphic artists who are working on layouts, blueprints or drawings.
Faber-Castell Pitt artist pen, B, set of 24, ink pencils, brushes, in studio box