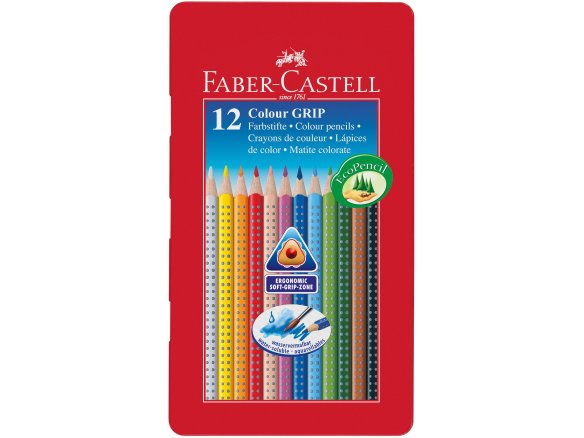 coloured lead is continuously glued and fracture-resistant, watercolour lead, will wash out of most textiles; ergonomic, triangular casing (barrel) with non-slip Soft-Grip-Zone and name field, casing painted the colour of the lead
The Colour Grip is the little brother of the Jumbo Grip – the latter is about 10 millimeters thick and triangular while the former has about the same thickness as a regular coloured pencil but also has a triangular, ergonomically shaped casing (barrel) with handy raised dots for gripping comfort. The pencil sits very nicely in your hand. The colour produced by the lead can be used with watercolouring techniques like, for example, brushing while wet and is completely non-toxic – just like the paint on the pencil itself which you can chew on while contemplating your next stroke (of genius)!
The Colour Grip has a harder, somewhat less saturating colour stroke than the likewise watercolour suitable coloured pencil ART GRIP, which is also made by Faber-Castell.
Faber Castell Colour Grip crayon, set of 12, set of 12 in metal case