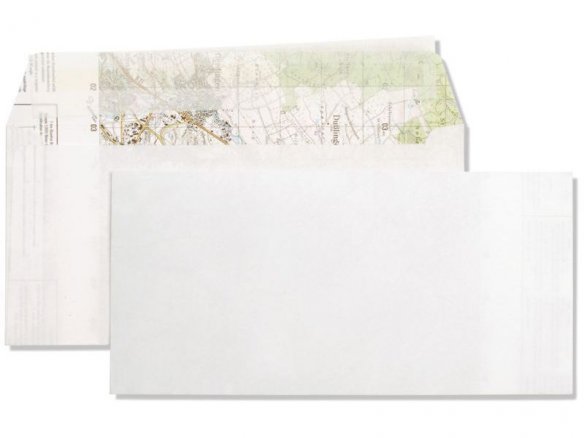 made from 100% waste paper, ca. 100 g/m², interior printed with many colours, exterior is white. straight flap (peel and seal), window size 90 x 45 mm, glue covered with silicone paper strip
In the case of these envelopes "recycling" has a different meaning: the raw material for this envelope is not reprocessed paper from waste paper collection but rather that from hot-off-the-press maps that had mistakes on them. Whether it was a matter of contour lines not being accurate or whether the path of a street had been changed is irrelevant because it is the sheets of paper themselves that, although seemingly and temporarily worthless, are put to good use by punching out the shapes for envelopes and mailers out of them. The manufacturer saves a great deal of energy by using this process (he says it is as much as 95%) while of course also saving a large amount of the raw materials that would be used for making the paper itself. "Well, well!," the consumer will think, "then the envelopes must cost next to nothing!" But that is not the case, the supplier will reply, the price is pushed up by the fact that there are only small production runs for these envelopes. And we think the actual price is more than reasonable considering that the envelopes are particularly beautiful, look very special and end up stirring up a lot of interest – features not many envelopes can claim to possess!
These envelopes are available in two versions, one with the printing on the exterior and one with it in the interior (the exterior is then white!). In the case of the latter, the map only shines through to the front to a limited degree, which means that any writing on it can still be clearly read. In the case of the version with the map on the exterior, it is probably best that the address be placed in the window!
By the way: envelopes whose flap is on the short side are referred to as mailers.
Please note: the areas shown on the maps vary. The fact that the map motif changes with each new batch is just part of the game – and we have no control over the motif you end up with.
Envelope made from map, white, map on the inside
9 Variants
with window
without window