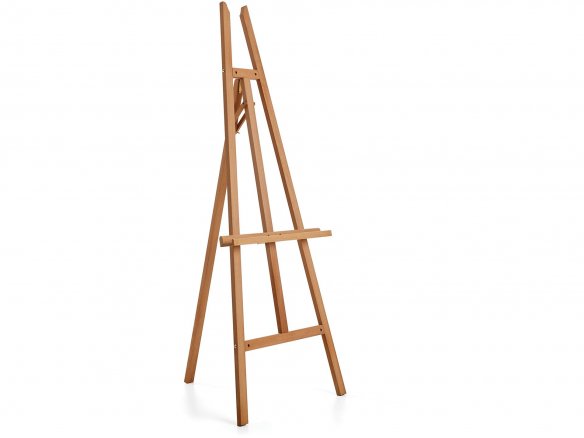 Without canvas arm
For displaying taller canvas sizes
Also for hotels, restaurants, weddings
Adjustable and collapsible
Handmade
Material

Oiled beech wood

Assembled dimensions (D x W x H)

945 x 590 x 1580 mm

Transport dimensions

80 x 160 x 1640 mm

Weight

4.5 kg

Maximum canvas height

1100 mm

Canvas support width

590 mm
The elegant exhibition easel, made of high quality beech wood, is particularly suitable for working on or displaying high canvas sizes up to 1100 mm, because it is not limited by a canvas arm. However, canvas frames cannot be clamped like other easels. The graceful tripod easel is used not only in the art sector in galleries and exhibitions, but also in hotel foyers, at special celebrations, or in restaurants for setting up menu boards, seating plans, or announcements.
In order to optimally display different canvas sizes, the canvas support bar is continuously adjustable by loosening two wing nuts, and the easel can be tilted into various positions by adjusting the rear leg and secured with a wing nut.
Folded flat, the exhibition easel can be easily transported and stowed away to save space. It is delivered partially assembled and is quickly set up.
Display easel, beechwood, d = 945 mm, w = 595 mm, max. h = 1580 mm, 4,5 kg