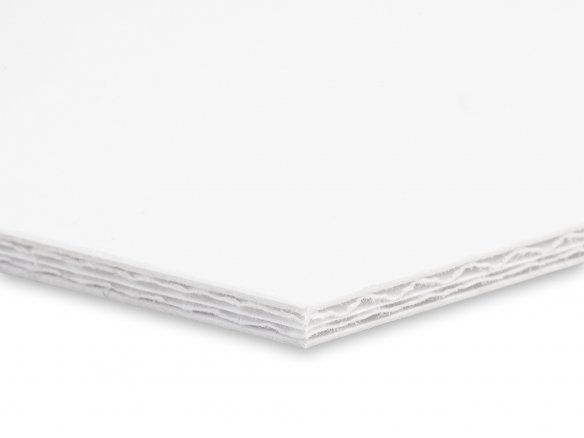 100% paper – 100% recyclable
Innovative core of embossed paper layers
Bend-resistant in all load directions
Good flatness
Smooth surface
Excellent printability on both sides
Paper from FSC-certified forestry
Made in northern Germany
Material

100% paper from FSC-certified forestry, acid-free

Panel core

Composite structure of embossed paper layers

Covering

cardboard, painted matt on both sides

Color

white/white
At first glance, the DISPA paper panel looks like double corrugated cardboard. Unlike classic corrugated cardboard, however, DISPA is rigid in any load direction – similar to honeycomb cardboard, only thinner. However, an internal honeycomb structure is not responsible for this, but an innovative core of several, specially embossed paper layers.
The 3.8 mm thick display panel made of 100% FSC-certified paper can also keep up with traditional layered panels with plastic core such as Kapa or Foamboard, even if it is not quite so pressure-resistant:
excellent flatness – even under challenging conditions
good dimensional stability and rigidity with low weight
smooth surface – core structure is not visible
can be printed on both sides with direct printing
suitable for laminating
easy to handle and hang up
Without plastic
In contrast to Kapa or Foamboard, DISPA can score points by being completely made of paper (100% sustainable FSC-certified forestry) and can, therefore, be sorted and 100% recycled!
Working with DISPA
Cutting/punching: You can cut DISPA not only with a cutter and saw, but also punch with a hollow punch without the edges being pressed in. Patterns and unusual shapes can be realized with a CNC cutter.
Laminating: You can use, for example, double-sided X-film, spray glue, or all-purpose glue for mounting photos, plans, or posters. Since DISPA consists entirely of paper, the result (whether and how strong the panel sticks) depends on the type and amount of adhesive used. Lining or laminating on the back is, as always, recommended.
Printing: Excellent print results on the bright white, smooth surface can be achieved with digital and screen printing on flatbed printers.
Folding: To fold DISPA, it's best to cut a V-shaped groove along the desired fold line and leave the bottom cover.
DISPA in action
DISPA, with all its features and processing capabilities in the professional field, is an environmentally friendly backing panel for short-term promotions and visual communication. Free-hanging ceiling signs and displays are made from digitally customized shapes, just like folded displays, cardboard mates, punched puzzles, or three-dimensionally assembled decorations.
Of course, we can think of even more:
Use DISPA as a non-plastic alternative for mounting photos, plans, or posters; build your working models or prototypes from the easy-to-handle panel; or, use them as a rigid baseplate for your architectural models. You can create extremely sturdy packaging or build temporary displays and moderation walls.
Unique, patented core
The unusual core structure of DISPA is the result of extensive analyses and tests with different embossing profiles. And the innovative and patented manufacturing process creates a pure paper panel, which is not only very stable but also surprisingly insensitive to temperature and humidity fluctuations. Therefore, DISPA lies completely flat, even under challenging conditions.
Our conclusion
Especially with short-term inserts, which produce a lot of unrecyclable waste with classic composite panels made of several materials, you can contribute to more sustainability by using DISPA.
DISPA Paper Display Board, 3,8 x 700 x 1000 mm, 850 g/m², 100% FSC