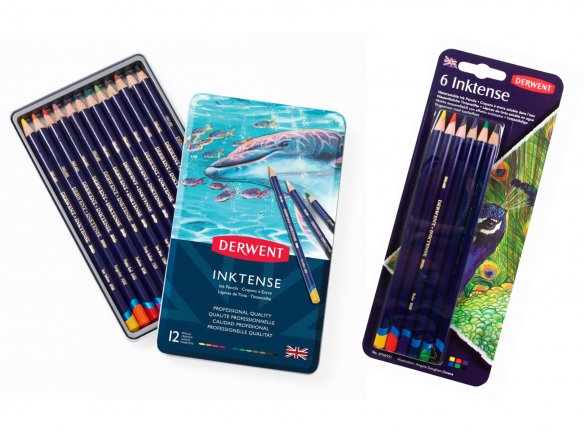 Water-soluble
Ink-like color effects
Becomes fixed and set after using with water
Can be used dry or wet
Shaft

Round wooden shaft, diameter of 8 mm, blue and painted in pen color at the top of the shaft

Lead

diameter of 4 mm, break-resistant, high-pigmentation

Characteristics

water-soluble, water-resistant after drying

Colors in a set of 6

Sun Yellow (0200), Poppy Red (0400), Violet (0800), Bright Blue (1000), Field Green (1500) und Ink Black (2200).

Colors in a set of 12

Sun Yellow (0200), Tangerine (0300), Poppy Red (0400), Fuchsia (0700), Deep Indigo (1100), Sea Blue (1200), Teal Green (1300), Apple Green (1400), Leaf Green (1600), Baked Earth (1800), Bark (2000), Ink Black (2200)
The Inktense colored pencils by Derwent are water-soluble like watercolor pencils. Their peculiarity is that when mixed with water, very colorful and vivid ink effects can be achieved. Another special feature: after drying, the paint is water-resistant and can be painted over without blurring.
For dry use, the paint application looks like a highly pigmented colored pencil. For the watercolor technique, either the dry paint application is painted with a little water or the paint is removed directly from the tip of the pen with the wet brush. Waterbrushs are ideal for this wet technique. Because of its high pigmentation, the professional ink pen is also suitable for working on textiles such as silk or cotton, but please note that the paint is not washable.
The name Derwent stands for the 1832 founded Derwent Cumberland Pencil Company, a British manufacturer of high-quality artist colors and materials.
Derwent Inktense Set
2 Variants