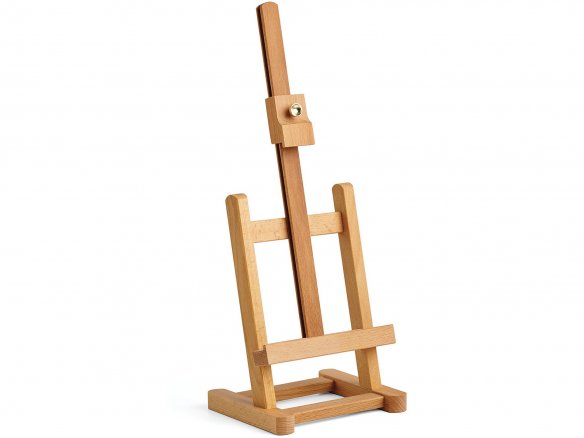 Ideal for painting and displaying small sizes
Stable H frame
Handmade
Easy to assemble
Material

Oiled beech wood

Assembled dimensions (D x W x H)

135 x 160 x 420 mm

Transport dimensions

60 x 165 x 450 mm

Weight

0.4 kg

Maximum canvas height

300 mm

Canvas support width

160 mm

Accessory

Mini-screwdriver for assembly
High-quality, oiled beech wood and a stable stand make this compact mini-easel ideal for displaying small works of art or books. Canvases up to a height of 300 mm can be locked into place using the adjustable canvas arm.
For painting and drawing on small canvases up to 300 x 300 mm (portrait size) at the table, the small easel offers a space-saving opportunity for working in art classes, at home, or at school.
Before setting up the non-foldable easel, the upper and lower parts are already firmly connected with two screws. A small screwdriver is included.
Deko-Tischstaffelei groß, Buche, t = 135 mm, b = 160 mm, max. h = 420 mm, 0,4 kg