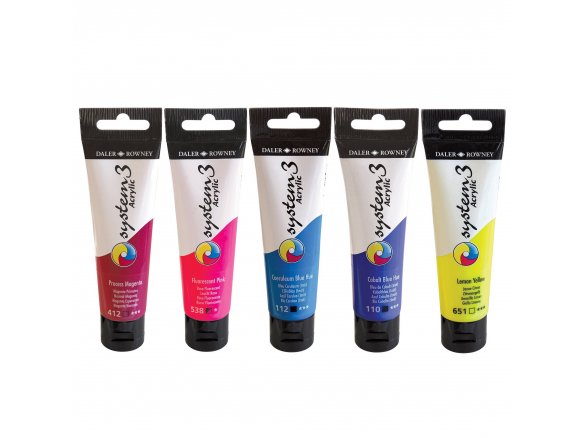 pigments in polymer emulsion, water-based, viscous, can be thinned with water, high degree of coverage, satin-matte, simultaneously elastic and hard when dry, colours are intermixable, age-resistant, good to excellent lightfastness depending on the hue (note: the fluorescent colours are, by their nature, not lightfast (non-fading)
Daler Rowney System 3 is a universally applicable acrylic paint of high study quality, which is equally at home in the demanding educational and hobby sector as it is in the art and design sector when large quantities of paint are required. It is suitable e.g. for wall paintings and theatre backdrops and is also suitable for outdoor use due to its good light and aging resistance. A high pigment concentration in this quality category and the wide range of colours including 7 metallic and 6 fluorescent colours are further convincing quality features. Absorbent painting surfaces such as canvas must first be primed with a gesso. It is possible to apply the viscous paint undiluted with a spatula or brush or glazed diluted with water. System 3 can be adapted to all processing techniques and modified in gloss level, viscosity and structure with acrylic paint. The acrylic paint is also suitable for linoleum printing and (with the help of appropriate aids) also for screen printing.
For easy learning of color mixing, the 6-primary color set contains the three primary colors Process Yellow, Process Magenta and Process Cyan, as well as Yellow Ochre, in addition to black and white, which enable balanced color mixtures to be produced. The 8-piece selection set includes Cadmium Red Hue, Cadmium Yellow Hue, Ultramarine, Sap Green, Yellow Ochre, Burnt Uber, Mars Black and Titanium White.
Daler-Rowney System 3 acrylics
164 Variants