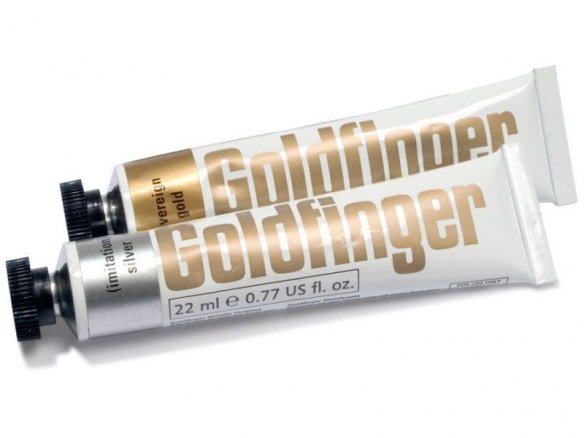 pasty consistency, glossy, quick-drying, colour hues are intermixable, can be thinned with turpentine oil or white spirit, N = hazardous to the environment, flammable
Goldfinger is an easy-to-use gilding paste that comes in five different metallic colours. It is best used for gilding picture frames, plaster and wood figures, for restoration work, as well as for painting and stenciling work on different materials like textiles, leather or modelling clay.
The paste can be applied by rubbing it on with a soft cloth or simply with your fingertip. After a short drying time it can be polished to a nice sheen. Goldfinger produces a very even, homogenous surface that does not have any signs of metallic particles or smears. For intricate work involving depressions and undercuts such as those found on baroque picture frames, the paste can be thinned with white spirit or turpentine oil and applied with a brush. If you want the glossy appearance to last, you should also apply a coat of varnish (e.g. DALER ROWNEY GOLDFINGER VARNISH) - otherwise an aging effect will appear due to the exposure to the air causing oxidation. Goldfinger paste provides excellent coverage and is economical in use - a little Goldfinger goes a long way! It works best on porous or slightly abraded surfaces.
Daler-Rowney Goldfinger metallic paste
5 Variants