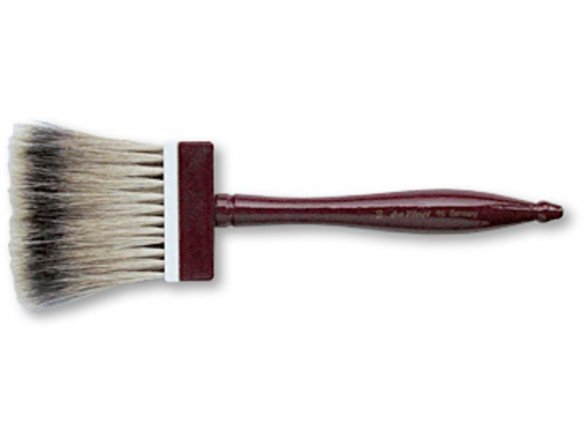 pure badger hair, reworked onto small plastic plates, short brown lacquered wooden handle, exposed hair length 65-75 mm, total length 230-250 mm, w = width of ferrule
The Da Vinci badger hair blender is particularly suitable for veining and marbling techniques and for imitating (faux) finishes because the lightly wavy character of the badger hair produces the very gentle resistance during paint application that is essential for these techniques. Badger hair is more flexible and softer than bristles and can also be used for watercolour and qouache painting. All the Da Vinci badger hair blenders are made with the classic bundle of hair and handle design that has proved itself for centuries.
Badger hair is one of the most expensive and valuable hair types in the field of paintbrush production. Because of its peculiar elasticity and firmness it is rated as being between a bristle and a natural hair. The hairs are slightly wavy and have beautiful markings that are specific to the badger, which belongs to the marten family. Its habitat is the temperate zones of Europe and Asia. Only the fully developed winter hair from the back and flanks of the animal are used for making brushes.
Da Vinci wide badger hair blender, flat
2 Variants