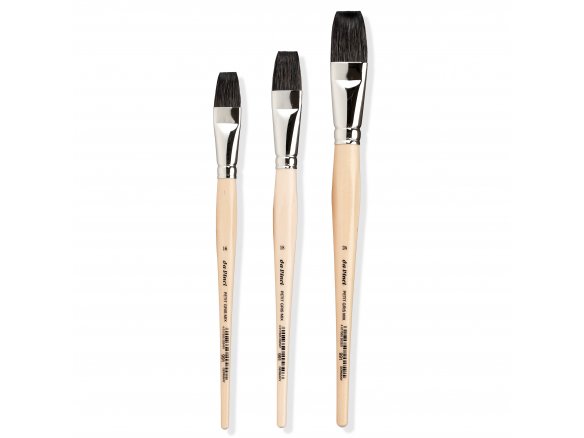 blue Russian squirrel hair, medium length bristles, seamless siver ferrule (= drawn brass tube, nickel-plated); short hexagonal wooden handle finished in clear lacquer, exposed hair length is 22-32 mm, total length is 220 - 260 mm, w = ferrule width
This flat brush is especially useful for glazing work or applying primer for watercolour painting. The fine hairs can take up large amounts of liquids which they then slowly release onto your painting substrate.
The hexagonal handle, which was developed by da Vinci, has from three to six flattened areas that prevent the brush from rolling away, but which is so subtly designed that your hand will not tire during painting work while at the same time allowing you to easily twist and shape the tip when needed.
Da Vinci watercolour brush for primers, flat
3 Variants