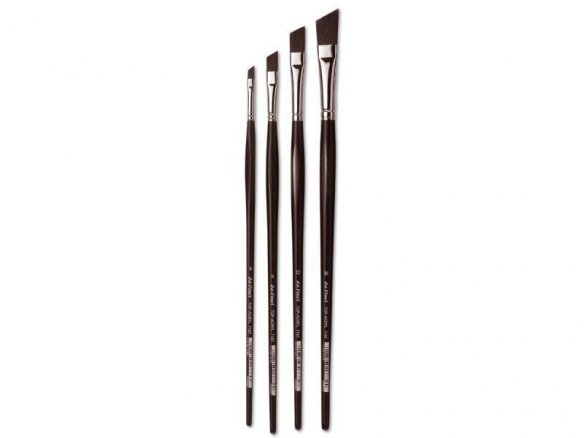 reddish brown medium length synthetic filaments, with interlocking effect, seamless silver ferrule (= drawn brass tube, nickel-plated), long anthracite glazed hexagonal wooden handle, sizes 4 to 16, exposed bristle length is 11/7 - 31/20 mm, total length is 289 to 339 mm, w = width of ferrule
The flat bristles of this da Vinci acrylic paintbrush are cut at a slant, a feature that allow different variations of brushstrokes to be made. The highly durable synthetic filaments of the da Vinci Top-Acryl line are designed for use with pasty acrylic and oil paints. The bristles of this paintbrush are built into the ferrule in such a way that two curved tufts of bristle, which have matching levels of strength, are set against each other without tension. These brushes will retain their shape even after long and intense use.
The hexagonal handle, which was developed by da Vinci, has from three to six flattened areas at its thickest point that will prevent the brush from rolling away. These flattened areas are so subtle that when the brush is being used not only will your hand not tire but they will also not hinder the turning motion necessary when shaping the brush tip.
Da Vinci Top-Acryl paintbrush , slanted
4 Variants