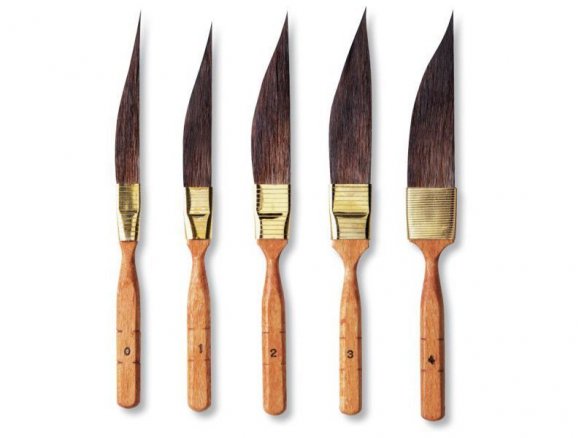 Kazan squirrel hair, sword-shaped tuft, clamped in brass tubing, very short and thick wooden handle, exposed hair length is 55/25 mm, total length is 126-130 mm, w = width of ferrule
A sword striper is the most used liner brush for making fine lines by hand in all different types of decorative painting techniques. It is called a sword striper for obvious reasons! The fact that it is made up of Kazan squirrel hair means that it can be used with practically all types of artist paints. One special application for the sword striper is "pinstriping", which refers to the stripes that are often used as decoration on motorcycles and cars in order to accentuate their contours.
Squirrel hairs come from the tails of Canadian and Russian (Siberian) squirrels - they are not as elastic and durable as the Kolinsky red sable hairs but do have the ability to take up and store large amounts of liquid: for this reason they are often found in so-called "mops" brushes (washing) whereby this feature is put to its best use. The highest quality squirrel hairs are the blue and Kazan versions.
Da Vinci sword striper, short, brown handle
4 Variants